Athena Voltaire is a globetrotting, aviatrix-adventurer that battles for the good of mankind.
Biography
Edit
Early Life and Childhood
Edit
Athena was born and raised in Arizona, United States, by stage magician, Louis Voltaire. After Athena's parents separated, Athena went to live with her father. At a young age, Athena began assisting her father in magic shows and performances for a traveling circuit. She assisted her father in various acts involving illusions, fires, escapes, and firearms. Athena even fired her first pistol for an act called A Bullet Catch while she was still a child.
After Athena became proficient in performing acts with her father, she started to become a circus apprentice for other magicians and performers. While assisting with other various acts in the circuit, Athena gained valuable skills enhancing her agility, reflexes, intelligence, and wit.
Life as a Pilot
Edit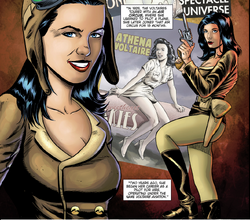 In 1925, Athena and her father joined a traveling air circus. From there, Athena learned how to pilot planes and she joined the circus and participated with them for 18 months. Eventually, Athena became a pilot for hire and began her own flying operation called, Voltaire Aviation.
Two years after becoming a hired pilot, Athena would soon travel to many different locations by plane to fill out obligations of service or for leisure. Near the beginning of the War in Europe, Athena would soon discover that she could use her skills she has acquired throughout her life for good use and help others who are in need before the violence of war.
Life as an Adventurer
Edit
Given the opportunity to fly across the globe, and with her interests in flying and adventure, Athena decides to travel around the world in search of adventure. Eventually, Athena runs into trouble with Nazis, and occult leaders. With the different evils that lurk around the earth, Athena was still determined to travel around the world, and battle against the evils she discovers.
After a few encounters with Nazis and occults, Desmond Forsyth from the Secret Intelligence Service located Athena in Los Angeles and offered her cooperation while traveling on adventures.